Generally, changing from an older to the newer version of software is called "upgrade" and is a rather simple process. However, Joomla CMS has so severe distinctions between its existing versions, that there's no mechanism available to upgrade between the major versions (1.5 to 2.5 or 1.5 to 3.0).
This is why upgrading your Joomla 1.5 to Joomla 2.5 is actually the migration, because it involves moving files, plugins, template etc to the new website.
There exist three basic ways of migration between major Joomla versions:
start from scratch – it means, you have set up Joomla 2.5. website and manually move all the content from 1.5 site.
convert website using third party extension – it will shorten and ease the process of migration.
migrate using an automated online service – which means no plugin installations, no manual data transfer. The process is very simple and speedy.
Tutorial on Updating Joomla 1.5 to 2.5 Automatedly
In this post you can find a detailed instruction on Joomla 2.5 automated upgrade. But before getting started, you need to prepare for the migration.
What you Need to Upgrade Joomla 1.5 to 2.5?
Joomla 1.5. and 2.5 installed and accessible online
FTP (or hosting control panel) credentials for both websites (host, username and password)
Video Guide Upgrading Joomla 1.5 to Joomla 2.5 Automatedly
5-Step Joomla 1.5 to Joomla 2.5 Migration Scenario
When you're all set with preparations, proceed with the following steps.
1. Register your account at CMS2CMS website. Alternatively, you can sign up using your existing Facebook or Google account.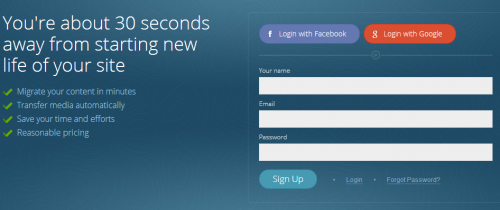 2. Type in your Joomla 1.5 website URLin the field "Source website", your Joomla 2.5 in "Target website"
3. Establish connection between your sites.This is necessary to provide data exchange between the databases. And this is where you need your FTP details.
download the Connection bridge file to your computer (by pressing the button with the corresponding name). It is saved as a zip. file.
unpack the zip (it contains 'cms2cms' folder)
insert the extracted 'cms2cms' folder to your Joomla 1.5. and 2.5 root folders via FTP.
get back to the Migration window and press "Verify Connection" Button

.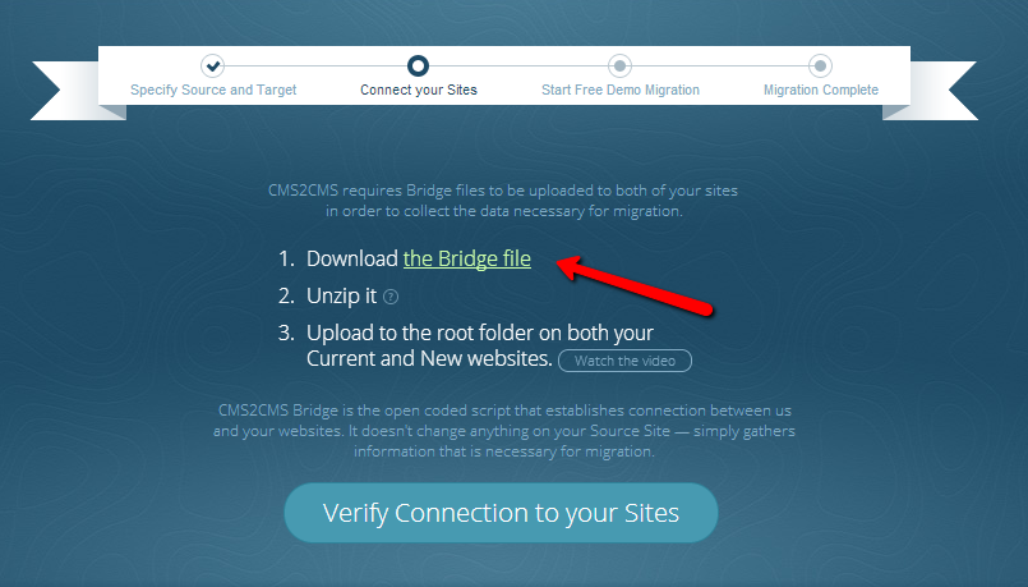 NOTE. You may watch a video tutorial on How to install connection bridge.
4. Run the Free Migration Preview (optional) to check out the results on your Joomla 1.5 to Joomla 2.5 upgrade.  You can migrate up to 10 pages and entities related to them for no cost using this option.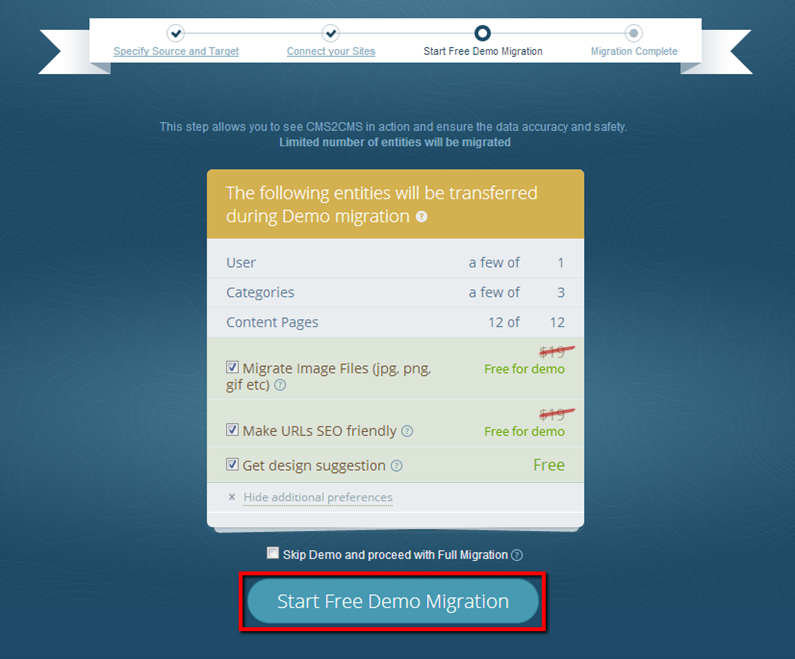 5. Start your Full Migration.This process takes 15 minutes on average, but if your site is very massive, the time needed for migration will be longer. When migration is done, you can enjoy your new Joomla 2.5 site!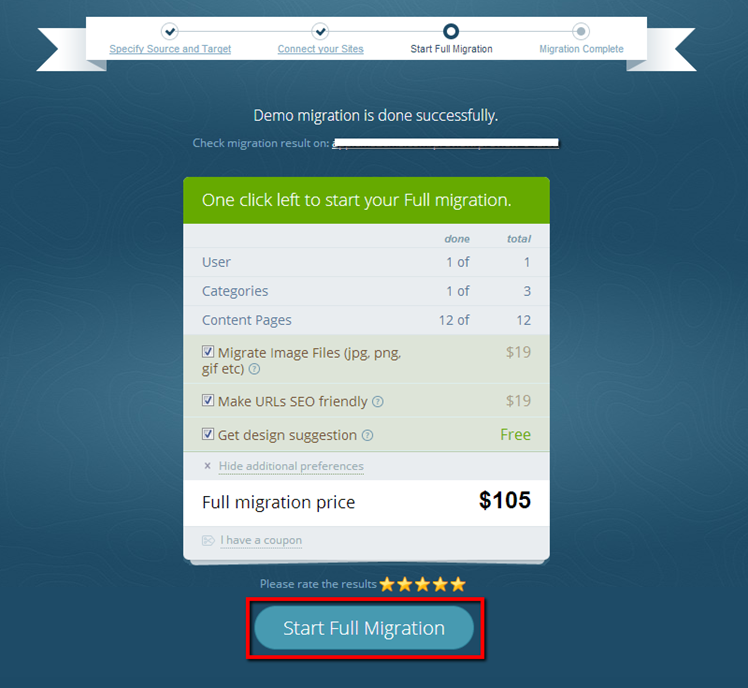 Now with all the info at hand it's time you made the decision. Set up the Free Demo Migration to see that upgrading your Joomla can actually be much easier than you imagine. For any details concerning automated upgrade from Joomla 1.5 to 2.5, visit www.cms2cms.com
What I Can Migrate?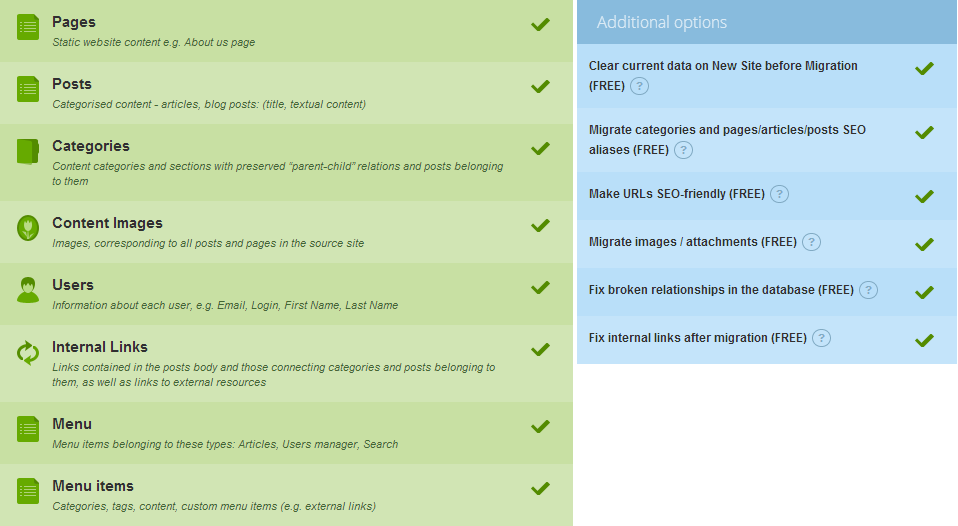 The following two tabs change content below.
"I'm not bound by mind restraints and understanding of marketing events and things. I like to think in a creative and constructive way, as well as to find ideas and possibilities for their implementation. You can ask me anything about CMS or forum migration"
Latest posts by Dmytro Lazarchuk (see all)